Boulder Elementary School has the unique ability to teach students in a multi-age learning environment, meaning students of different ages learn together in one class, not separated by grade level.  This fosters instruction driven by individual objectives, allowing students to thrive and be challenged based on their specific needs.
Multi-age learning reflects the natural groupings that are found in the world around us, and offers opportunities for children to exchange ideas, follow modeled behavior, and develop leadership and social skills.  Attention to education of the whole child, integrated curriculum, and child centered learning are key principles in multi-age learning.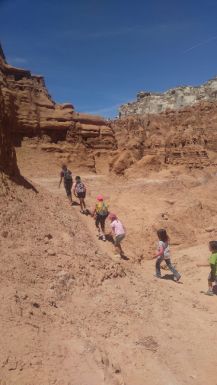 The foundation of Boulder Elementary School's philosophy and teaching is based on the Responsive Classroom approach, focusing on engaging academics, positive community, effective management, and developmental awareness.  In addition to these principles being carried out throughout the day, the students begin their day with Morning Meeting and end with a Closing Circle.
Our schedule and students are often broken into the following sections: Preschool, Kindergarten, Lower Elementary, Middle Elementary, and Upper Elementary.  The equivalency for these divisions are typically first and second graders in Lower Elementary, third and fourth graders in Middle Elementary, and fifth and sixth graders in Upper Elementary.  The students are not identified by grade levels, instead by these groupings.
Boulder Elementary School uses Guided Reading, individual or small group instruction designed to provide differentiated teaching that supports students in developing reading proficiency.  The small group model allows our teachers to focus on each student's specific needs, accelerating their progress.
Students have Word Work daily that is taught using the Words Their Way curriculum.  Words Their Way is a teacher-directed, student-centered approach to vocabulary growth and spelling development, whereby students engage in a variety of sound, pattern and meaning activities, sorting pictures and words.  It allows for differentiated learning in the classroom, rather than a one-size fits all solution.
Students also have guided writing as part of their daily instruction.  All grade levels incorporate the writing process each week, which is comprised of five distinct stages, pre-writing, drafting, revising, editing, and publishing.  In using these steps, students are able to break writing into manageable chunks and focus on creating quality writing.  Students who can write proficiently can articulate their thoughts, respond to reading, and communicate effectively.
Go Math! is a comprehensive Kindergarten through Sixth Grade mathematics curriculum that is at Boulder Elementary School, as well as throughout Garfield County School District.  The program emphasizes essential questions and big ideas with depth of understanding as a goal.  Interactive lessons utilize research based instructional approaches and differentiated instructional resources to ensure success for all students.
Boulder Elementary School emphasizes on Fluency in Mathematics.  The students in students in kindergarten through sixth grade have a strong foundation of number sense, they are able to compose and decompose numbers, and therefore can solve problems with flexibility and efficiency.
The students participate in fluency games and puzzles, number talks, and use Mastering Math Facts, Rocket Math.  Rocket Math is a paper and pencil, worksheet-based math facts supplemental curriculum.  Individual goals are set and reevaluated throughout the year as students master writing numerals and fact fluency in addition, subtraction, multiplication, and division, as well as, master skip counting, factors, integers, and equivalent fractions.
In addition to daily Mathematics and English Language Arts, the students have cross curricular guided instruction in Social Studies, Science, Technology, Engineering, Performing and Visual Arts, and Applied Mathematics.
Boulder Elementary School has half day Fridays.  This day is dedicated to Science, Technology, Engineering, Arts, and Mathematics (STEAM).  The activities and projects differ week to week, and are often open to the community to participate, including our monthly community prompts and monthly student presentations.
Fridays are also an opportunity for students to evaluate their growth and successes as learners through tracking and maintaining their personal learning portfolios.  This is just one example of Boulder Elementary's commitment to creating an environment that fosters a growth mindset.